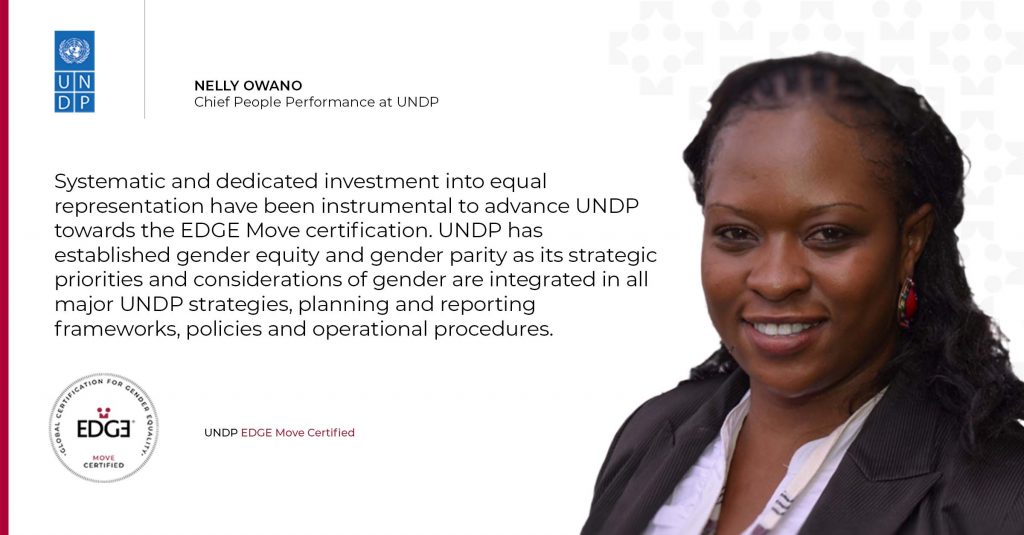 The United Nations Development Programme (UNDP) is a United Nations organization tasked with helping countries eliminate poverty and achieve sustainable economic growth and human development. Achieving gender parity is at the heart of its mandate not just for sustainable growth and human development worldwide but also for the growth and development of its own people.
In 2021, the United Nations Development Programme (UNDP) demonstrated its commitment to gender equity within its own workplace by undergoing a comprehensive third-party review of its gender representation, effectiveness of policies and practices to ensure equitable career flows, and inclusiveness of an organisation's culture for both the male and female employees, ultimately being awarded EDGE Move Certification – the second-highest certification level issued by EDGE. The United Nations Development Programme (UNDP) is one of the two UN agencies that have this distinction.
EDGE Move certification acknowledges the significant progress the United Nations Development Programme (UNDP) has made towards realizing gender equity in the workplace and confirms its commitment to building a more gender inclusive working environment.
Nelly Owano – Chief, People Performance at the United Nations Development Programme (UNDP) – was instrumental in guiding UNPD through the EDGE Certification process. Nelly Owano joined in 2021 and works out if its headquarters in New York City. She brings with her extensive experience in providing strategic and operational Human Resource and Organizational Development support in both international and multicultural contexts having worked at UNICEF, the UN as well as World Bank Group.
EDGE Certification brings visibility and credibility to the change happening inside the organization. At the same time, it creates the premises for diverse talent to thrive at work. Tell us some stories about how your employees benefit from the EDGE Certification journey of your organization.
Nelly Owano: Achieving gender parity is at the heart of UNDP's development mandate and is not a recent addition to the agenda. It has always been part of a broader, UN-wide framework for pursuing diversity, equity and inclusion in the workplace, across the development sector and throughout the world. Specifically, strengthening open, respectful, non-discriminatory and inclusive work environments across the organization remains our key priority.
EDGE's comprehensive review of our gender representation, pay equity, effectiveness of policies and practices, as well as inclusivity of the organization's culture for both the male and female employees found that the organization scored highly across all measures. The EDGE certification acknowledges the significant progress UNDP has made towards gender equity and confirms our commitment to a gender inclusive workplace.
This assessment also revealed key follow up areas which we will be working on to ensure we strengthen our commitment to making UNDP a gender balanced and gender-inclusive organization where all its people have equal opportunities to grow, progress in their careers, and make a difference. For example, we have work to do to increase the representation of women in professional roles, invest in leadership development, as well as improve the retention of women in senior management positions.
F​​​or UNDP, gender parity has never simply been about the numbers, it has also been about the intangibles, such as the workplace culture. We are committed to cultivating diversity, openness and gender inclusivity at every level and wherever the UN operates, embracing equity, eliminating biases and acknowledging the particular talents of all personnel, so that we can truly lead by example and leave no one behind.
How do gender balance, diversity and inclusion relate to your broader sustainability agenda, and what do these goals—and the principles on which they rest—mean for the next generation?
Nelly Owano: UNDP has made significant progress in advancing gender equity locally and globally, specifically by implementing our Gender Equality and Gender Parity Strategies, COVID-19 crisis has created new challenges. Working to build successful and sustainable development across many countries and communities in a rapidly changing world requires room for creativity, thinking outside the box and welcoming input from people whose voices have historically been not always heard.
For us internally, one of the focus groups has been young talent. As such, we are making a concerted effort into identifying and recruiting young talent. Our new Graduate Programme is one example of entry level programmes that aim to enable UNDP's workforce diversity in the longer term.
Which specific policies have advanced your organization towards EDGE Certification, and which policies need to be adjusted or updated to further advance gender parity within your organization?
Nelly Owano: Systematic and dedicated investment into equal representation have been instrumental to advance UNDP towards the EDGE Move certification. UNDP has established gender equity and gender parity as its strategic priorities and considerations of gender are integrated in all major UNDP strategies, planning and reporting frameworks, policies and operational procedures.
As such, UNDP continues implementing a solid Gender Parity Strategy that specifically states that gender parity goes beyond numbers and aims to create an inclusive work environment of respect, care and flexibility, being free from any bias, discrimination, or harassment. As part of these efforts, UNDP has enhanced a set of measures that aim to promote workplace flexibility; in response to COVID-19; amongst other inclusive practices and initiatives.
ABOUT THE UNITED NATIONS DEVELOPMENT PROGRAMME (UNDP)
The United Nations Development Programme works in nearly 170 countries and territories, helping to achieve the eradication of poverty, and the reduction of inequalities and exclusion. We help countries to develop policies, leadership skills, partnering abilities, institutional capabilities and build resilience in order to sustain development results.
ABOUT EDGE CERTIFICATION
EDGE is the leading global assessment and business certification for gender and intersectional equity. EDGE Certification involves a rigorous third-party review of representation across the pipeline, pay equity, effectiveness of policies and practices, and inclusiveness of an organization's culture. As an integral part of the assessment, statistical data is analysed, policies and practices are reviewed and employees' experiences of career development opportunities in the current workplace are accounted for. Depending on the specific results of each organization, an action plan is formulated, and firm commitments towards its implementation.
EDGE Certification meets organizations where they are in their gender balance journey (EDGE) and in their intersectional equity journey (EDGEplus) through its three levels of certification: Assess, Move and Lead. A certification at the EDGE Assess level recognizes commitment, one at the EDGE Move level showcases progress and a certification at the EDGE Lead level celebrates success in fostering gender equitable workplaces. An EDGEplus certification further recognizing its commitment to analysing intersectional issues between gender and one or several of the following additional dimensions: gender identity, race/ethnicity, LGBTQI+, working with a disability, nationality and age.
EDGE Certification is built around the independent third-party certification of data and information and is distinguished by its rigour and focus on impact granted by one of the EDGE accredited independent third-party certification bodies – SGS, Intertek or FloCert, it remains valid for a period of two years. EDGE's current customer base consists of over 200 large organizations in 50 countries across five continents, representing 30 different industries.