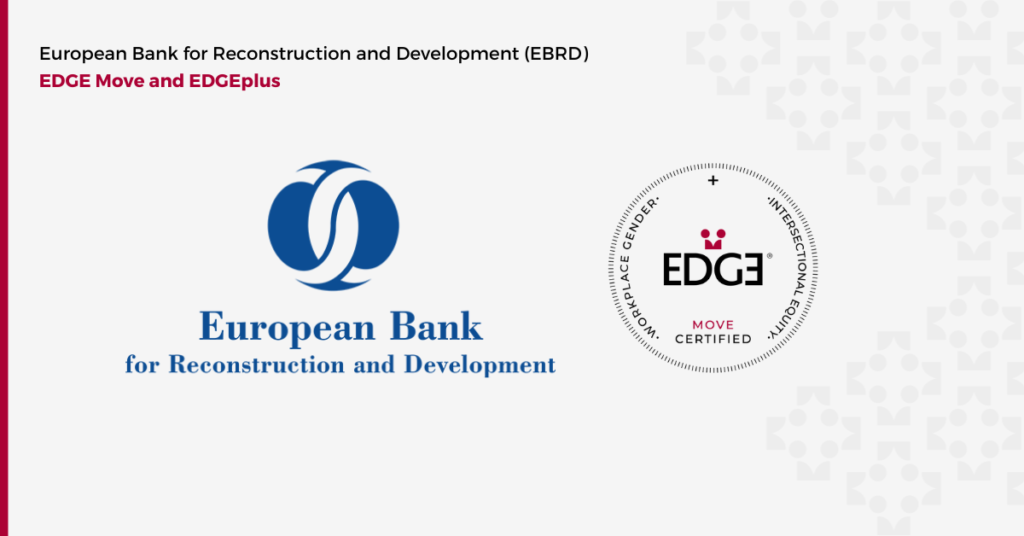 The European Bank for Reconstruction and Development (EBRD) is recertified at the EDGE Move level, recognizing its strong and continued commitment towards workplace gender equity.
EDGE Move Certification is a clear indication that the EBRD has not only made a commitment to gender equity but has taken concrete steps to transform that commitment into action. It demonstrates that the organization has achieved measurable progress across all four pillars of the EDGE global standard, including representation, pay equity, effectiveness of policies and practices, and inclusiveness of the culture.
This time, EBRD has also achieved EDGEplus Certification, showcasing its public commitment to address intersectional issues related to gender equity and other dimensions of diversity. For its EDGEplus analysis, EBRD chose to include the following intersectional dimensions to the Employee Survey: LGBTQ+, Race/ethnicity, Age, Working with a disability (visible or invisible), and Nationality. By committing to a multidimensional approach to DE&I measurement and strategy, the EBRD is taking steps to promote a culture of inclusivity in the workplace.
We congratulate the EBRD for its continued gender and intersectional equity work.