EDGE and IKEA Switzerland are proud to announce the company has achieved EDGE Lead, the highest level of certification, for the fourth time.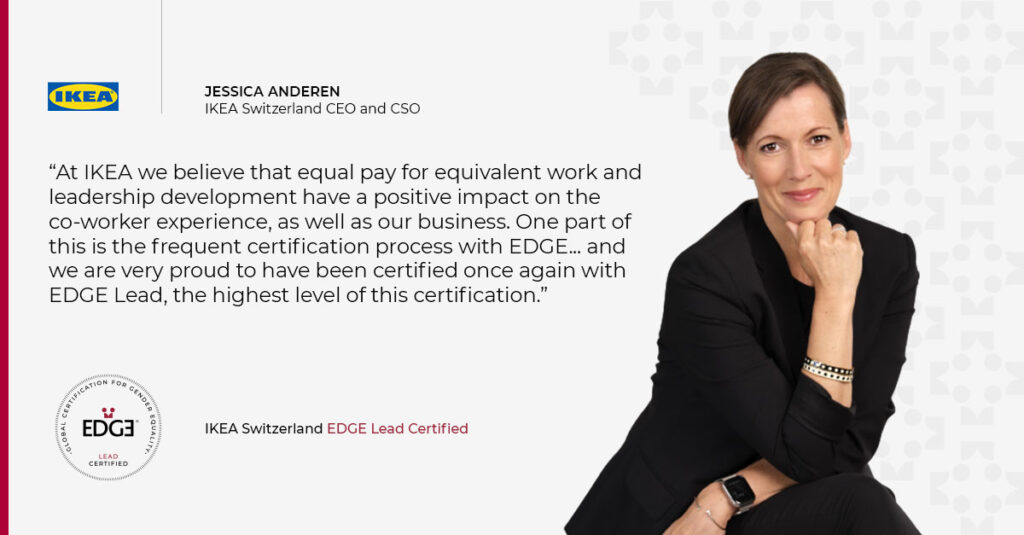 A long-term partner of EDGE, IKEA Switzerland's commitment to certification highlights the importance of maintaining a continual and consistent focus on workplace gender equity.
Commenting on the certification, Aniela Unguresan, Founder of EDGE Certified Foundation, said:
"IKEA Switzerland shows remarkable results when it comes to the gender representation, holds proof that the principle of equal pay for equivalent work is upheld by the organization, strengthened the effectiveness of policies and practices to ensure equitable pay and leadership development training and mentoring, and show positive employee's experiences in all areas of analysis".
Jessica Anderen, Ikea Switzerland CEO and CSO, acknowledged the organization's long-standing collaboration with EDGE. "For years now we have been striving for gender equality in all aspects. At IKEA we believe that equal pay for equivalent work and leadership development have a positive impact on the co-worker experience, as well as our business," she explained.
"One part of this is the frequent certification process with EDGE, the leading global assessment methodology and business certification standard for gender equality, and we are very proud to have been certified once again with EDGE Lead, the highest level of this certification."