EDGE and Pictet are pleased to announce the company has achieved global EDGE Move Certification.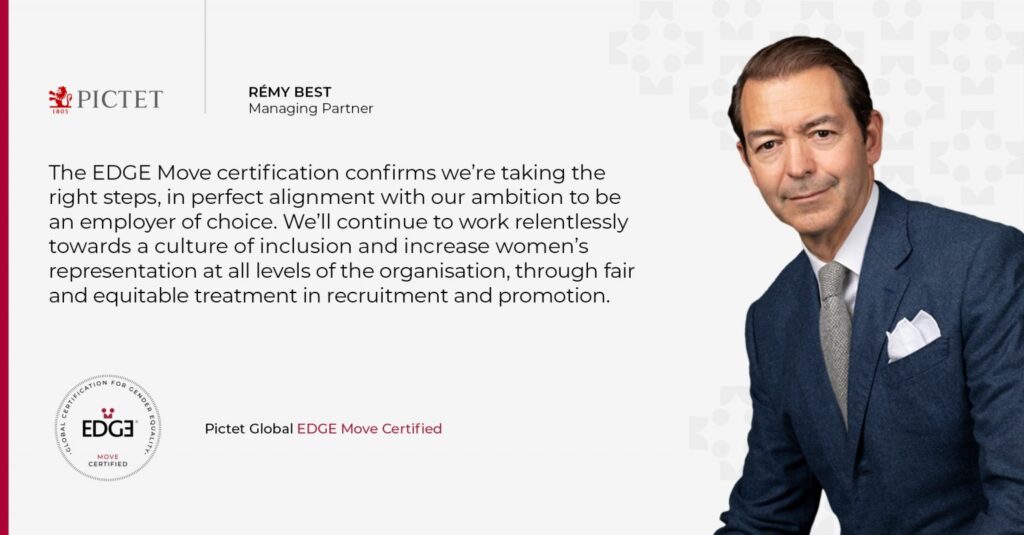 "Achieving global EDGE Move certification is a testament to Pictet's commitment to systemically improving gender equity through the diligent implementation of their EDGE action plan," explains Aniela Unguresan, EDGE Certified Foundation Founder. "The organization continues to ensure equal pay for equivalent work, targets the strengthening of the effectiveness of policies and practices to ensure equitable career flows, and continues to improve the representation of women at senior levels globally to close the gender gap."
Founded in 1805, Pictet is a leading Europe-based wealth and asset manager. As reflected by their EDGE certification, the company is committed to building responsible partnerships with its clients, communities and the companies it invests in.
As Rémy Best, Managing Partner at Pictet, explains: "We're delighted to be officially recognized for everything we've done in recent years to promote gender equity. The EDGE Move certification confirms we're taking the right steps, in perfect alignment with our ambition to be an employer of choice. We'll continue to work relentlessly towards a culture of inclusion and increase women's representation at all levels of the organization, through fair and equitable treatment in recruitment and promotion. There's still a lot to do, but today we're pleased to celebrate this important milestone."