L'Oréal USA upgrades its EDGE Certification level and is the first company to become EDGEplus certified, further cementing its status as a front-runner in workplace gender and intersectional equity.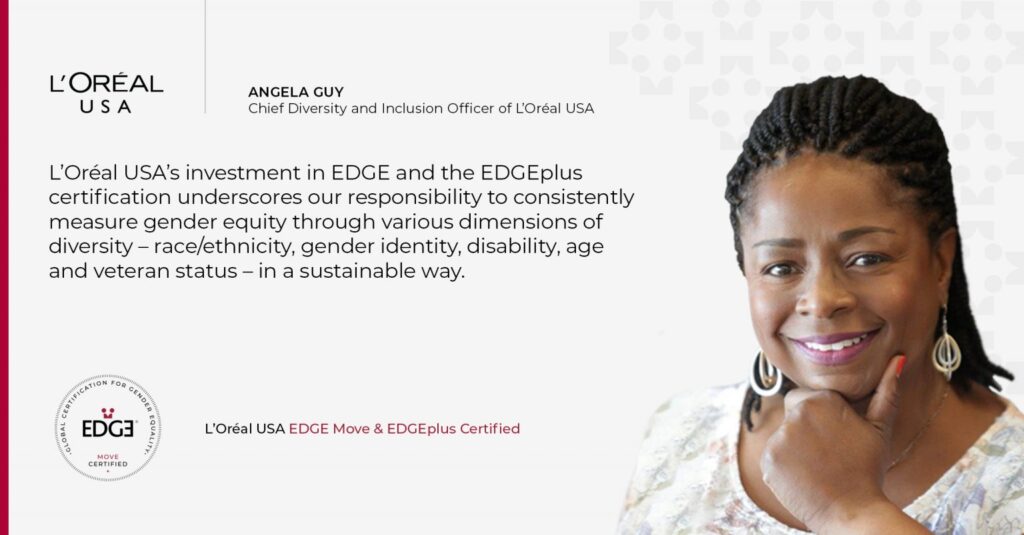 On Women's Equality Day, L'Oréal USA and EDGE are proud to announce that L'Oréal USA is the first company to have been granted the new EDGEplus Certification which looks at intersectional equity.
L'Oréal USA has also upgraded its EDGE Certification to the second level, EDGE Move, accelerating its progress on a journey towards gender equity that began in 2014 when it was among the first six companies worldwide to EDGE certify.
A Global Approach To Equity
EDGE is the leading DE&I solution to measure accelerate and certify gender and intersectional equity. It measures where organizations stand in terms of representation, pay equity, effectiveness of policies and practices to ensure equitable career flows, as well as inclusiveness of their culture.
EDGEplus is the part of the EDGE solution allowing organizations to go beyond gender and measure the intersectionality of gender and race/ethnicity, gender identity, sexual orientation, age, working with a disability and nationality. As part of its EDGEplus Certification, L'Oréal USA also included the veteran status of its employees.
"What is remarkable about L'Oréal USA is just how intentional, prioritized, systematic and structured they have been in their DE&I journey. Their certification at the EDGE Move level and EDGEplus is a testament to the company's commitment and leadership in the DE&I arena," Aniela Unguresan, Founder of the EDGE Certified Foundation.
Beauty For All, From All
L'Oréal USA leads the #1 beauty market in the world with its portfolio of more than 30 iconic beauty brands that reach consumers in every category and distribution channel.
The EDGE analysis and independent verification process confirmed that L'Oréal USA has a robust proactive management of pay equity, plus a strong framework of policies and practices in place to ensure equitable career flows for employees of both genders and across different race/ethnic backgrounds.
"We are proud to pioneer the new EDGEplus certification for the beauty industry and other sectors around the world and are motivated by this milestone to accelerate our progress," said Stéphane Rinderknech, President and CEO of L'Oréal USA. "For topics as important as gender equality and pay equity for all, it is reassuring to have a partner like EDGE to validate the path we have taken and support us in the next steps we must take to achieve our goals. Our diversity and inclusion mission requires a collective effort, and our recent results are a testament to L'Oréal's commitment to developing and fostering a culture of inclusion, belonging, and growth."
"L'Oréal USA's investment in EDGE and the EDGEplus certification underscores our responsibility to consistently measure gender equity through various dimensions of diversity – race/ethnicity, gender identity, disability, age and veteran status – in a sustainable way," said Angela Guy, Chief Diversity and Inclusion Officer of L'Oréal USA. "Overall, we showed even greater representation of women at the senior leadership level, including those in the pipeline and improved in most of the employee perceptions on a variety of key metrics."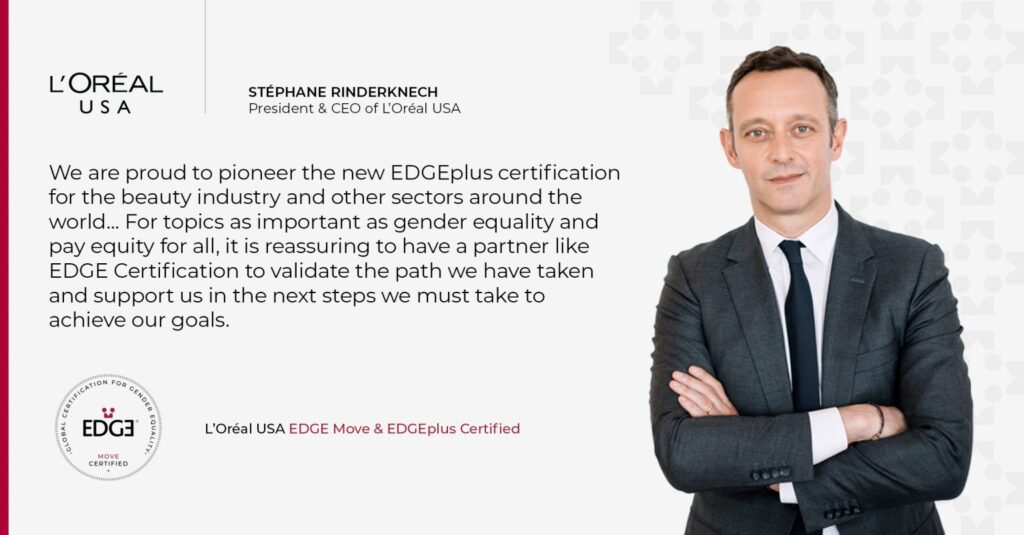 ABOUT L'ORÉAL USA
L'Oréal USA is the largest subsidiary of the L'Oréal Group, the world's leading beauty company. Through its management of over 35 iconic beauty brands, L'Oréal USA has generated more than USD 7 billion in sales annually. Products are available across all distribution channels including hair salons, department stores, mass market, pharmacies, medi-spas, e-commerce and more. L'Oréal USA's commitment to growth is generated through sustainable innovation and driven by the company's L'Oréal for the Future ambition which demonstrates sustainable development across the Group's value chain. The company is headquartered in New York City, employs more than 11,000 people, and operates administrative, research, manufacturing and distribution facilities across 16 states.
ABOUT EDGE CERTIFICATION
EDGE is the only global assessment methodology and business certification standard for gender and intersectional equity. The EDGE assessment methodology was developed by the EDGE Certified Foundation and launched at the World Economic Forum in 2011. EDGE Certification has been designed to help companies not only create an optimal workplace for women and men, but also benefit from it. EDGE stands for Economic Dividends for Gender Equality and is distinguished by its rigor and focus on business impact. The methodology uses a business, rather than theoretical approach that incorporates benchmarking, metrics and accountability into the process. It assesses policies, practices and numbers across five different areas of analysis: equal pay for equivalent work, recruitment and promotion, leadership development training and mentoring, flexible working, and company culture. EDGE Certification has received the endorsement of business, government, and academic leaders from around the world.