EDGE and L'Oréal are proud to announce that L'Oréal Brazil has achieved EDGE Lead, the highest level of EDGE Certification.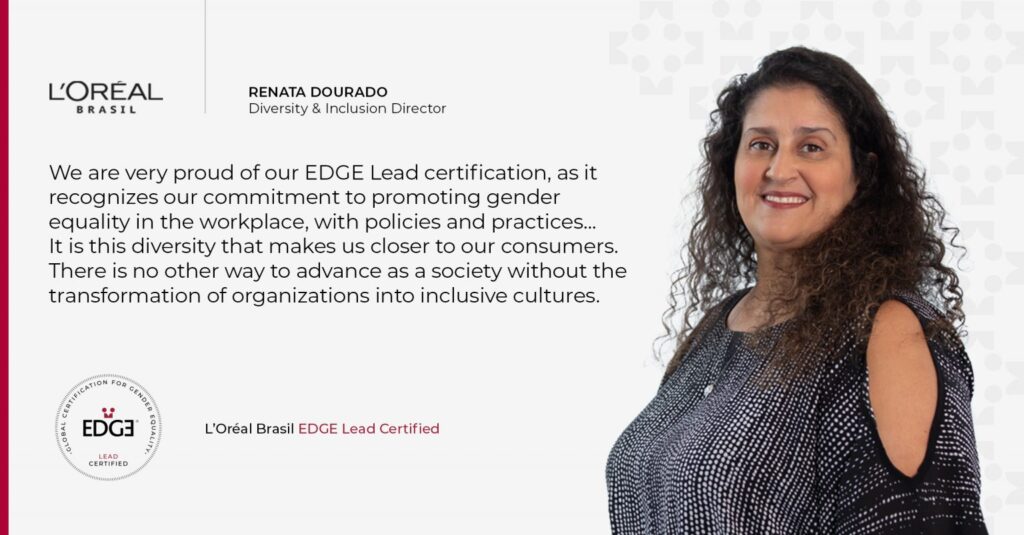 "L'Oréal and EDGE have a strong partnership and history in working toward gender equity. The results of their 2021 analysis demonstrate L'Oréal Brazil's leadership when it comes to fostering an inclusive workplace for both men and women. We congratulate them on this fantastic achievement." Aniela Unguresan, Founder of the EDGE Certified Foundation.
Highest Level Of Certification
Organizations become EDGE certified for their commitment to workplace gender equity and Lead is the highest of the three certification levels possible – achieving this is a testament to L'Oréal Brazil's continuous dedication and leadership in this area.
Through their certification process the company demonstrated that the principle of equal pay for equivalent work has been upheld, that the effectiveness of policies and practices to ensure equitable careers flows has been strengthened, and that employees' experiences have improved in a number of key areas.
Equity In Brazilian Beauty and Beyond
"We are the number one beauty company in the world and L'Oréal Brazil is the first subsidiary of the Group to be recognized by EDGE at the LEAD level, the highest degree of the certification. In Brazil, only seven companies have the EDGE certification, and only L'Oréal Brazil has the LEAD level. In the world, we are the third company to achieve this milestone.
We are very proud of this achievement, as it recognizes our commitment to promoting gender equality in the workplace, with policies and practices. We want to show the market that it is necessary to invest in plurality in order to be innovative. It is this diversity that makes us closer to our consumers. There is no other way to advance as a society without the transformation of organizations into inclusive cultures," Renata Dourado, Diversity and Inclusion Director, L'Oréal Brazil.