The organization continues its journey with EDGE, which began in 2015, by achieving the second level of EDGE certification: EDGE Move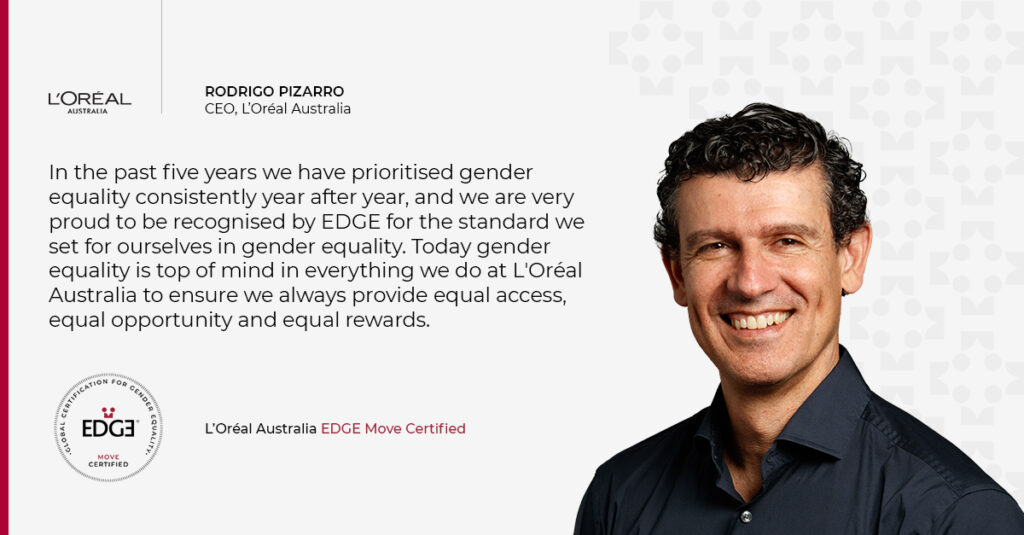 We are proud to announce that L'Oréal Australia has been successfully obtained at the second level of EDGE certification: EDGE Move.
Their journey with EDGE began in 2015, when they earned their first EDGE Assess certification. Since then, they have come a long way in the diversity and inclusion space, and through EDGE they have been able to consistently measure and monitor where they stand in terms of representation, pay equity, equitable career progression, and effectiveness of policies and practices.
Rodrigo Pizarro, CEO L'Oréal Australia, commented this result saying: "In the past five years we have prioritised gender equality consistently year after year, and we are very proud to be recognised by EDGE for the standard we set for ourselves in gender equality. Today gender equality is top of mind in everything we do at L'Oréal Australia to ensure we always provide equal access, equal opportunity and equal rewards".
"Getting EDGE Move certified is a fantastic achievement and we are proud that L'Oréal Australia successfully obtained it. The results of the 2021 analysis continue to demonstrate L'Oréal Australia's progress when it comes to fostering an inclusive workplace for both men and women. Having implemented most aspects of their previous EDGE action plan, L'Oréal Australia strengthened the effectiveness of policies and practices to support more equitable careers flows and improved employees' experiences in several areas", says Aniela Unguresan, Founder of the EDGE Certified Foundation.
ABOUT L'ORÉAL AUSTRALIA
L'Oréal Australia is part of the L'Oréal Group. L'Oréal has devoted itself to beauty for 112 years. With its unique international portfolio of 35 diverse and complementary brands, the Group generated sales amounting to 27.9 billion euros in 2020 and employs 85,000 people worldwide. As the world's leading Beauty Company, L'Oréal is present across all distribution networks: mass market, department stores, pharmacies and drugstores, hair salons, travel retail and branded retail.
In Australia the Group has 30 brands available across all channels nationwide. The teams in Australia is dedicated to L'Oréal's sense of purpose "Create the beauty that moves the world".
ABOUT EDGE STRATEGY
EDGE Strategy offers an integrated SaaS-based DE&I solution allowing organizations to measure, accelerate and get certified for where they stand in terms of gender and intersectional equity. EDGE's customer base consists of 200 large organizations in 44 countries across five continents, representing 29 different industries.