The Gender Equality Index developed by the European Institute for Gender Equality (EIGE) is a tool for measuring the progress of gender equality in the EU.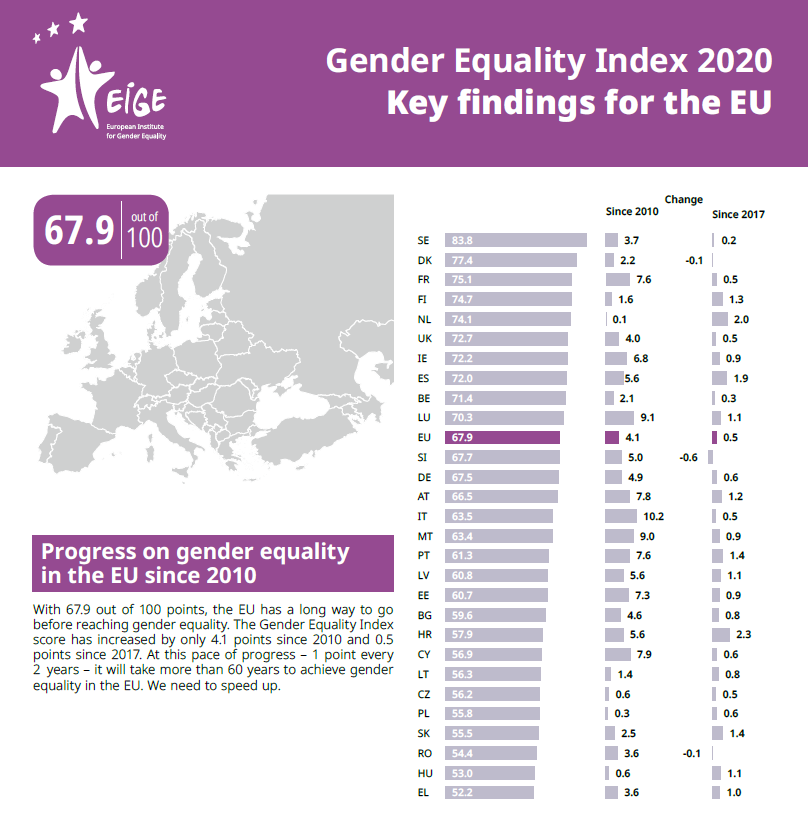 The EIGE Gender Equality Index 2020 has been recognized as a credible measurement tool for gender equality in the European Union. Measuring gender equality is an essential part of effective policy making in the EU. Since 2013, the EIGE has been monitoring both progress and setbacks and exploring what can be done more effectively to advance gender equality.
The Gender Equality Index 2020 consists of 6 core areas of scoring: Work, money, knowledge, time, power and health. As well as two further areas: Violence against women and intersecting inequalities. This year's thematic focus is on digitalisation and the impact on the professional life of women and men in the EU.
The results for Europe show that "with a score of 67.9 out of 100, the EU is at least 60 years away from reaching complete gender equality. EIGE's Gender Equality Index shows that advances in gender equality are still moving at a snail's pace, with an average improvement of just half a point each year."
Find more information about the EIGE Gender Equality Index here and the fact sheet about the key findings for the EU here.
Image Source: EIGE, Gender Equality Index 2020: Key findings for the EU, 28 October 2020.