The Women Count 2020 Report tracks and reports numbers of women on executive committees and main boards of FTSE 350 companies. In this latest version of the annual report, the authors identified continued and alarming gaps in terms of gender balance, notably highlighting the numbers of women holding P&L positions on executive committees.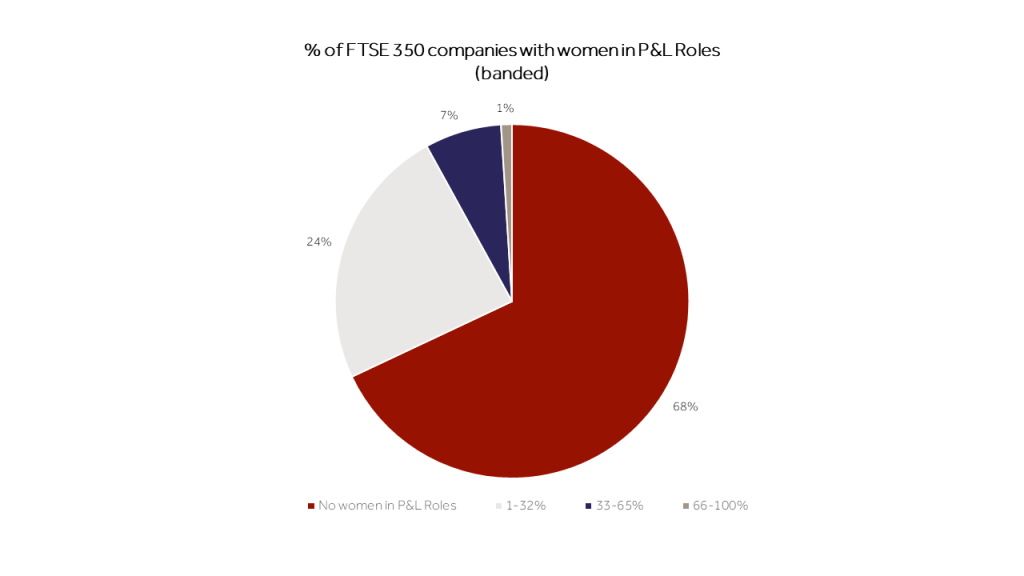 "The type of role undertaken by women who have become members of FTSE 350 executive committees really matters. There is a hierarchy of positions on executive committees and those jobs holding a profit and loss (P&L) responsibility are more highly valued. These are seen as essential roles for people looking to make the final step to Chief Executive Officer, often referred to as springboard positions and, in 2020, the evidence shows that women are just not getting the same opportunities here as their male contemporaries"
Source: McDonagh, M., Fitzsimons, L. "Women Count 2020 – Role, Value, and Number of Female Executives in the FTSE 350". The Pipeline, 17th April 2020.
Read the full report from the Pipeline here.
Image Source: Own depiction in reference to the Women Count 2020 report.