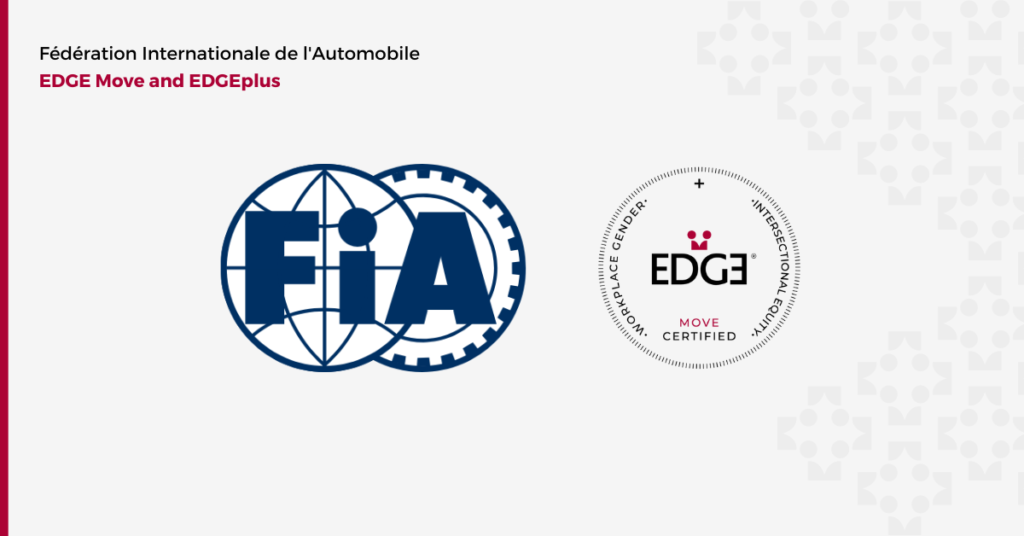 The Fédération Internationale de l'Automobile (FIA) is recertified at the EDGE Move level, recognizing its strong and continued commitment towards workplace gender equity.
EDGE Move Certification is a clear indication that FIA has not only made a commitment to gender equity, but has taken concrete steps to transform that commitment into action. It demonstrates that FIA has achieved measurable progress against the EDGE Standards, in achieving gender balance across the pipeline, ensuring gender pay equity, implementing policies and practices to support equitable career flows, and fostering an inclusive culture.
In addition to progressing to the EDGE Move level, FIA has also extended the scope of its EDGE Certification by committing to assessing the intersectionality between gender and other aspects of diversity. FIA has been awarded an EDGEplus Certification for monitoring employee experience from an intersectional perspective of gender, gender identity, LGBTQ+, race/ethnicity, age, disability, and nationality. By adding EDGEplus Certification for intersectional equity to its EDGE Move gender-binary Certification, FIA is paving the way for a more diverse and inclusive workplace.
We congratulate the Fédération Internationale de l'Automobile for its EDGE Move and EDGEplus Certifications.