EBRD becomes the second international financial institution to hold the second level of EDGE certification.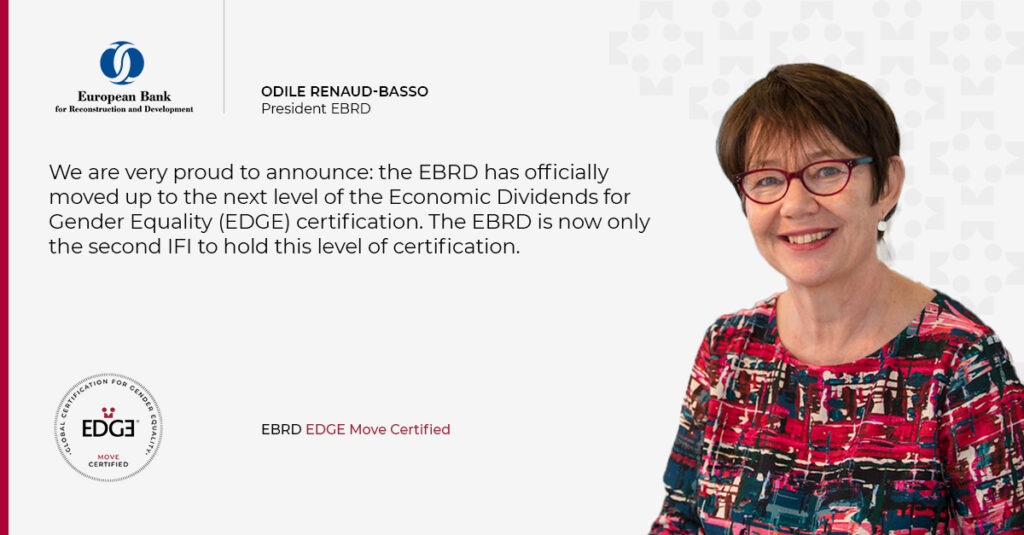 EBRD obtained its first EDGE Certification in 2017 at the EDGE Assess level and comes the second be international financing institution in being re-certified at the EDGE Move level.
Obtaining the EDGE certification – the leading global assessment and business certification for gender and intersectional equity – involves a rigorous third-party review of representation across the pipeline, pay equity, effectiveness of policies and practices, and inclusiveness of an organization's culture. In addition, employees receive a comprehensive survey to assess perceptions of gender equity in the workplace, and this is an integral part of the assessment.
"We are very proud to announce: the EBRD has officially moved up to the next level of the Economic Dividends for Gender Equality (EDGE) certification. The EBRD is now only the second IFI to hold this level of certification.", says Odile Renaud-Basso, President of the EBRD.
The European Bank for Reconstruction and Development aims to increase gender equity and promote equal opportunities in the countries in which it invests. By focusing on increasing access to finance and business support for women-led enterprises and employment opportunities for women, they aspire to promote sustainable, well-functioning market economies and inclusive societies.
"Since its previous assessment in 2019, EBRD has significantly progressed to reach the second level of certification EDGE Move. Notably, female representation has increased throughout the pipeline to be beyond the 30% threshold of substantive representation across management levels. In addition, EBRD continues to have a strong framework of policies to ensure equitable career flows including a robust institutional framework for the proactive management of gender pay equity.", says Aniela Unguresan, Founder of the EDGE Certified Foundation.
ABOUT EBRD
The EBRD is a multilateral bank that promotes the development of the private sector and entrepreneurial initiative in 38 economies across three continents. The Bank is owned by 71 countries as well as the EU and the EIB. EBRD investments are aimed at making the economies in its regions competitive, inclusive, well-governed, green, resilient and integrated.
ABOUT EDGE STRATEGY
EDGE Strategy offers an integrated SaaS-based DE&I solution allowing organizations to measure, accelerate and get certified for where they stand in terms of gender and intersectional equity. EDGE's customer base consists of 200 large organizations in 44 countries across five continents, representing 29 different industries.