Danper, a Peruvian agro-industrial leader in the production and export of vegetables, fruits and specialties for the most demanding world markets, has been re-certified at EDGE Move level in gender equality, achieving a high score in the performance measurement of the system in the audit carried out in November 2021. Danper is the first company in Peru to have achieved this important certification in 2015 and the only agro-industrial company certified in this country.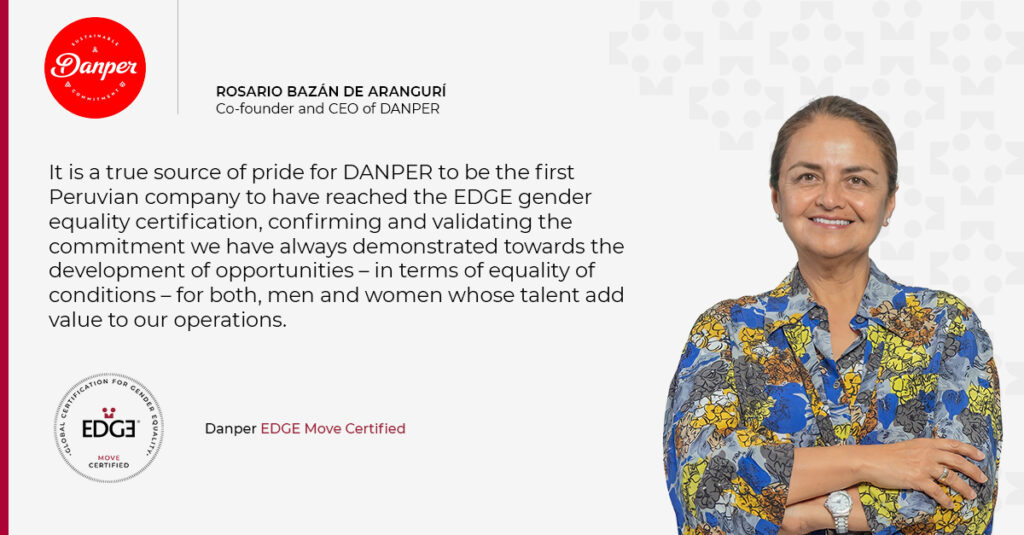 Rosario Bazán, Co-founder and CEO of Danper said, "It is a true source of pride for Danper to be the first Peruvian company to have reached the EDGE gender equality certification, confirming and validating the commitment we have always demonstrated towards the development of opportunities – in terms of equality of conditions – for both, men and women whose talent add value to our operations. We are firmly convinced that economic and social empowerment of our women is a condition precedent to achieve the economic growth and social development required by our country".
EDGE stands for Economic Dividends for Gender Equality and it is the leading global business certification for gender equality that is universally applicable across industries and countries. EDGE provides a clear picture of the company's commitment and measures workplace gender equality through five areas of analysis: equal pay for equivalent work, recruitment and promotion, leadership development training and mentoring, flexible working and company culture.
"At Danper we measure the income gap between women and men; a gap that we have been able to reduce as a result of our conviction for equal opportunities and practices. This certification ensures that at Danper we have a structured and systematic approach to measure, track and close the corporate gender gap by looking at quantitative and qualitative indicators", remarks Danper's CEO.
Aniela Unguresan, Founder of EDGE Certified Foundation congratulates Danper on the progress and its commitment: "Danper's re-certification not only demonstrates its dedication to creating and upholding a gender-equal workplace, but also its commitment to transparency and accountability in this progress. The EDGE action plan, which underpins our certification, is helping Danper to accelerate its progress and, by following the plan, Danper is making a significant reduction in the gender pay gap between the women and men it employs. We are proud to work with a business like Danper which is leading the way in Peru and in the agro-industrial sector."
ABOUT DANPER
Danper is a leading agribusiness, based in Peru, whose management model is based on the creation of Shared Value, where efficiency and economic growth is connected with the social progress of its workers, their families and their communities. Danper supplies the world's most prestigious supermarket with nutritious food solutions such as fruits, super grains, gourmet food, ready to eat (prepared food) and organic, in four process formats: canned, fresh, frozen, and dry grains.
The company has production operations in several regions of Peru, such as La Libertad, Lambayeque, Piura, Arequipa, Ica, Cajamarca, and Amazonas.
ABOUT EDGE STRATEGY
EDGE Strategy offers an integrated SaaS-based DE&I solution allowing organizations to measure, accelerate and get certified for where they stand in terms of gender and intersectional equity. EDGE's customer base consists of 200 large organizations in 44 countries across five continents, representing 29 different industries.